Curious about [YEON!] past layout? Featuring the past layout used here.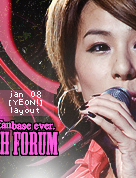 Welcome to [YEON!], the best English forums for Chaeyeon around. Join us here as we bring the latest news, messages, media on Chaeyeon.

Translated Chaeyeon Messages and Studio sub forums in [YEON!] are limited to user with 50 posts and above only. Do post to reach the requirement.


Need help getting around the forum? Or are you searching for news about Chaeyeon?

[Forum Rules]
[Forum News]
[Forum Project]

Chaeyeon signs for [YEON!]