Since that those of the noob quality can't bother to read the rules, I decided to facilitate you.
Read them.
Learn them.
Maybe even love them.
1: On Posting
Primarily, you may post whatever you want as long as it isn't rude or offensive to anyone. We will not allow any lewd or pornographic items to be posted, and this will be grounds for an immediate and swift banning.
Profanity is to be kept at a strict minimum. There are moderate censorships in place, but I would prefer not to put more than the bare minimum. So, no quoting George Carlin. The man's a genius, but that's not the kind of language we use for a civilized forum.
There will be no double posting. You can delete any accidental double posts. No bumping of topics. Responses with one word responses or only smiley faces will be considered spamming and will be deleted.
2: On Gravedigging
Topics are kept alive for a 30 day period. After the first few days following the 30 day limit, the topic will be in a grace period. If no one responds during these few days, any new responses to this topic will be considered grave-digging and the
topic will be locked.
Sole exceptions are the Titan and JLU episode discussions. As long as it's relevant.
Consistent gravedigging will be grounds for a week long suspension, after which time you will be allowed to return to the forum.
3: On Courtesy
Show courtesy to each member of the forum. Arguments may get heated and that's all well and good, but keep it on a professional and on a dignified level. Anyone participating in a flame war will be issued a suspension.
Respect the moderators and administrators of the forum. They run things and work hard to keep things running.
Don't disrespect the focus of the Board.
No bashing people on basis of their own biases. Anyone who believes Robin belongs with Starfire are welcome, nay, encouraged to post here and maybe get introduced to why we enjoy our own piece of... non-canon... heaven.
No disrespecting anyone for their choice of religion, diet, or way of life.
4: On Banning
For most minor offenses, a suspension will be given. This suspension for a week will give you time to cool off and hopefully approach the circumstances with a cool head. But, you only have two chances. After the second suspension, you will be given one last chance. The third time action is taken, you will be banned from the forum.
5: Trolling.
The principle of spamming profusely (while anonymous) while not showing an iota of constructiveness, deriding and showing comtempt for our primary pairing, or anything else they may not care for, while in their infancy with their time with the board for the most part.
So as such, new members there whose posts are there strictly to deride or not respect our preference and can't say anything constructive, shall be banned. And their posts deleted.
Unfair? Perhaps, but if you hate the pairing, why come and run them down to us? I'm sure there are plenty of forums where they can use your "special" talents, such as it were.
We don't need it. I'm sure you can move on with your lives.
Remember, it's a TV show, you should really just relax.
6: Signature Space: Max picture signature dimensions 500 width X 400 height. Similar to mine but gives you some leeway.
As such.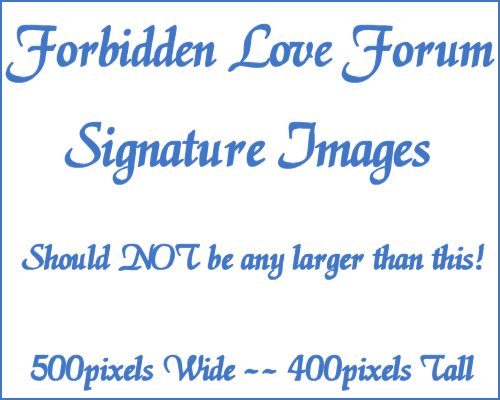 Violations come on a case by case basis based on two conditions:
One) Tastefulness. Picture signatures with nudity and violence or suggestive worded ones will be removed.
Two) If the picture signature isn't resized or replaced by the time the offender signs on again, the admins will remove the signature. Whether the user wishes to use another sig is up to them.
Therefore if you want to keep a sig/avatar, be tasteful. Deletions will up to 5 without any problems. If persistent past that, then it will enter as a warning or suspension. Depending on case by case basis.
Addition: The first image may not be larger than the 500x400 dimensions as shown above and that other images may not be larger than 150x150.
Also, a limit for a number of images. Three images total for sigs. Any more and it makes for quite the distraction and bunches loading time.
In addition to the "tasteful and no suggestive themes/nudity" rule to the sigs, same rules apply to avatars in that they can be deleted as well.
7: Anti Spamming and Grammar: Especially since some of you are spammers.
First off: a reply can not mean "I like this" or "I agree" or just a smiley face and that's all you have to say. You have to speak something about the discussion at hand. Something of actual relevance. Doesn't matter if positive or negative. If you can't, then don't say anything at all and save us the time from deleting your useless post.
Multiple spamming will result in suspension and a full warning/strike against you.
Grammar/spelling rule:
Grammar will be enforced and cyberspeak is more or less prohibited. You can't get away with idiotic grammar anymore.
8: Spoilers: Are to be kept to yourselves, like your avatars and Sigs as an example. Both images and quotes. Those shall be removed. Unless there is enough of a demand for a spoiler thread of an episode via PM to the staff, then we shall remedy. Some of us would like to wait.
For the record, it's considering a spoiler if the content in question airs before the US does.
Those who would like to post images, post them as links.
9. Double profiles: Such deception is not tolerated nor is insulting to our member's intelligence with tricks.
So as such, the IP address/e-mails of both the pseudo account and the original shall be permanently banned. And if consistent with the deception in the future, the future pseudo accounts shall be banned.
We're honest with you, be honest with us.
Apologies we didn't attend to this sooner. We'll keep adding/amending as we go.
Thank you.