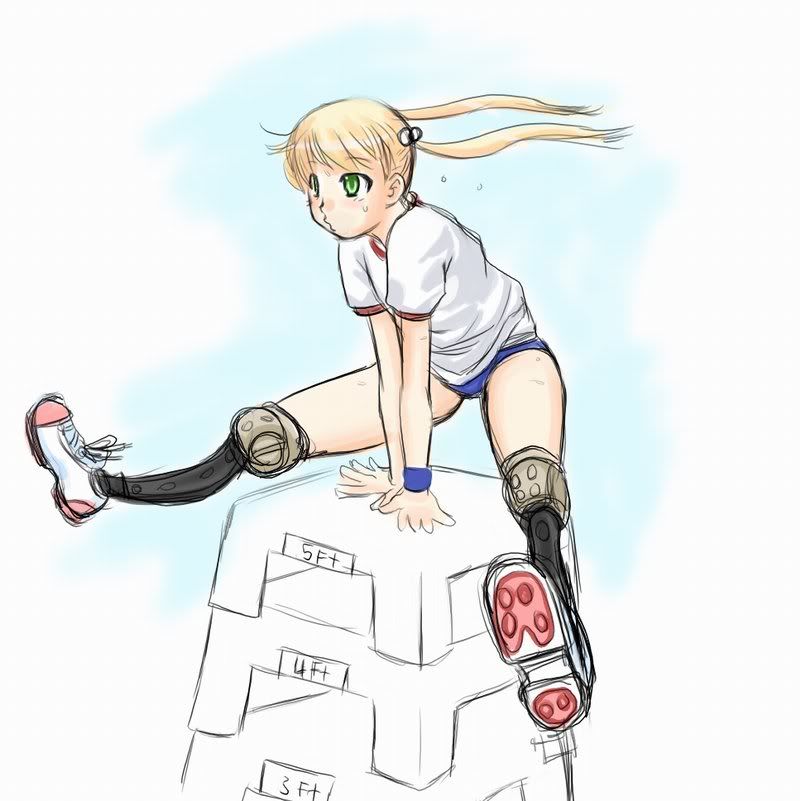 Ibarazaki Emi
Despite being left with legs amputated below the knee, miss Emi Ibarazaki is perhaps one of the most cheery, happy-go-lucky girls on the entire globe, let alone the school. Unlike the other four, Emi views her disability more as a blessing, her prosthetic legs having brought her to the heights of her ability on the track team rather than becoming a permanent, uncompensatable obstacle. This sunny disposition
plus her renowned athletic ability have made her an easily recognizable favorite through-out the school. Rosa probably sees the girl as her biggest rival, the non-pedal star being much more approachable to the school population. Despite this, Emi has made few close friends, mostly notably Rin and the captain of the track team whom she is rumored to be smitten with.
Feeling incredibly vulnerable when being seen without her legs like any normal girl, Emi refuses to let many get close enough to see her without her equipment. Her family has probably only exacerbated this, creating a cocoon of safety around her out of wanting to protect her. Having to deal with this fear while maturing into a teenager, Emi has become very concerned with the idea of her public image, often leading her to make somewhat shallow decisions. A few in the school even speculate that her cheery personality is really just a facade to gain respect from the student body.
Ikezawa Hanako
One parent died in fire while mother was pulled from fire, then dies a few months later. This was a breaking point for Hanako who looses it on another girl at her previous school. Hanako is then sent for extensive psychological counseling. hen sent away to this special school. Since whoever has custody of her doesn't really want to deal with Hanako, they use a small amount of money left from the parents for the care of Hanako to send her to this school, and to get her a small apartment of her own. Randomly is absent from school with little to no explanations. She's a decent student, only because of their absences keep her from being a better student. She has the strong urge to be social and an even stronger fear of it. As such, she keeps up with many current trends, she's an avid/rabid fan of gothic lolita. She creates many unique designs, though she lacks the courage to wear them in public. Hanako tends to wear loose, non-form fitting clothes, despite having a nice body. Is very close friends with Lilly.
Hanako is reluctant to deal with the main character, as she is to dealing with most people she doesn't know. Initiation to the group via Lilly is about the only way to get close to her. If the player meets Hanako without Lilly present, Hanako will likely flee, and will likely flee if she stumbles across the character and Lilly together, towards the start of the game. May become more casual and open later on, but is almost always still apprehensive, no matter how close the player gets.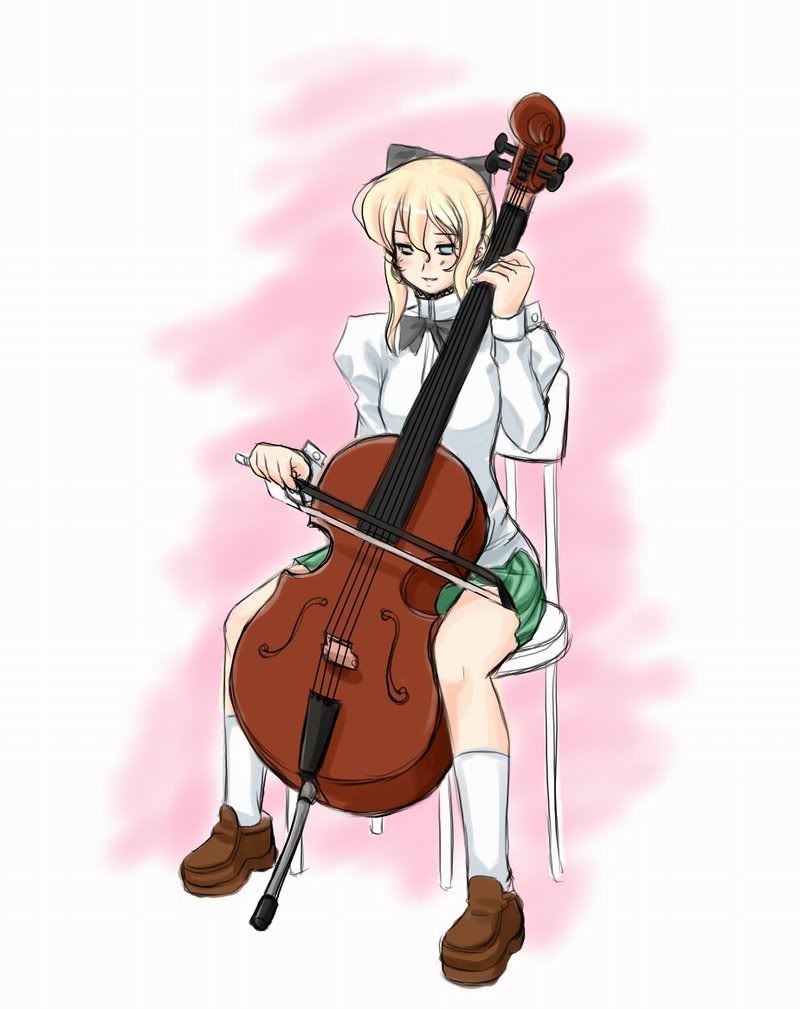 Lilly Sato
Lilly comes from a wealthy and influential business family. As the eldest of 5 children, Lilly is used to caring for them, since her parents lead hectic and busy lives. She is caring, responsible and friendly - the perfect foil to Hanako, her best friend, whom she sees as needing a little guidance occasionally.
In class, she's one of the better students. Despite her handicap, Lilly can always find time to study and read up on subjects she likes. Always the voice of reason, she's known to mother the girls around sometimes, which most of them have gotten used to, calling her 'nee-san' playfully. They all know her as someone they can trust and count on, and are on good terms with her seeing-eye dog.
Besides reading, Lilly enjoys playing the violin she brought from home. Her music is always enjoyed by the other girls, especially Hanako. She also has a not-so-secret weakness for cuddly things...especially Hanako.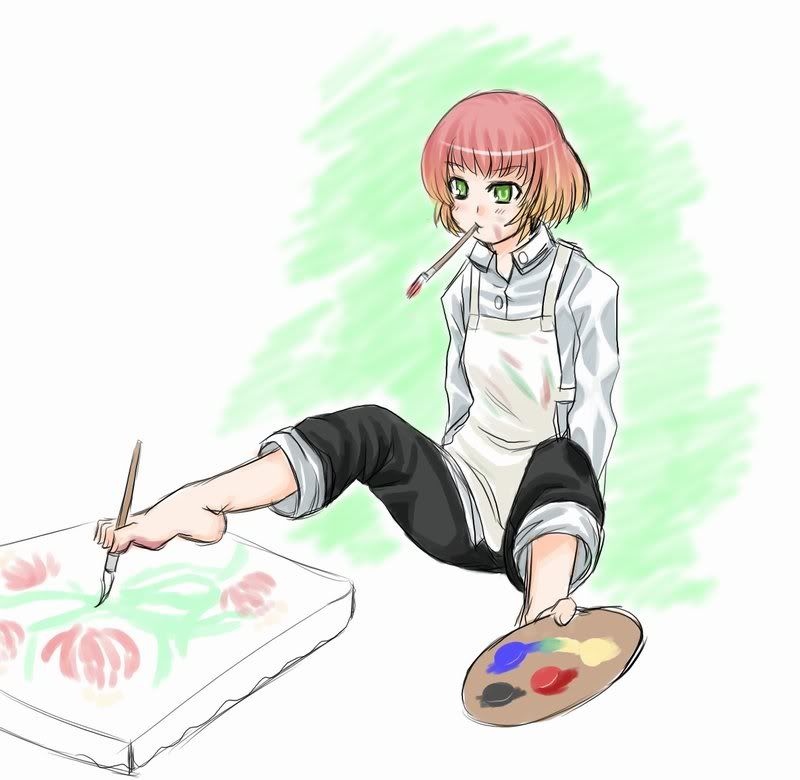 Tezuka Rin
Rin is the artistic, somewhat strange one of the bunch. Since her arms are tiny stumps thanks to a severe birth defect and subsequent surgery, she uses her feet and occasionally her mouth to do everything, which includes making art. Because of her disability, Rin is allowed to wear a boys' uniform at school. Her creativity is matched by her philosophical streak: Rin is fond of occasionally getting lost in thought and giving voice to abstract ideas about man, the universe, and other things that thoroughly confuse people. Because of this eccentricity, as well as her knack for observation, Rin doesn't have many friends (though she and Emi seem to especially respect each other). As long as she has something to do on her own, Rin doesn't feel like she's missing out on a social life, or she tells herself that it isn't as important.
Above all, Rin is an independent girl who lives with her disability just fine, and she's very serious about what she does. Unfortunately, this makes her so busy that she doesn't have much time for the main character at first. Compared to art-- which she has a talent for already-- Rin has trouble dealing with intense feelings and desires-- she especially avoids the complicated tangles of romance. The main character could help Rin deal with people on a genuine level, and by opening up her heart may even inspire her artwork toward greater heights.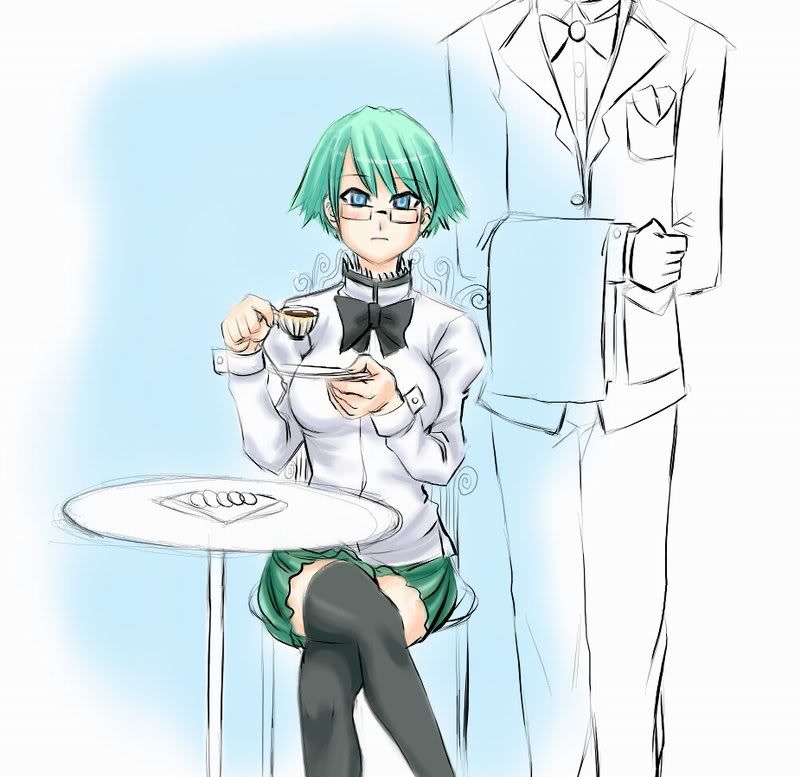 Hakamichi Rosa
Strong willed and forceful, Rosa is definitely the leader type. She's been the class rep for as long as her class has had one, and generally takes charge in just about any situation she's placed in. She's known around the school as a fearsome taskmaster, and skilled manipulator, but also as a fair and just leader; who always gets the job done and genuinely cares about getting it done. In general she's relatively popular, but is only personally close to her one best friend, who usually acts as her interpreter. Unlike most of the girls, Rosa is very up-front about her disability, and refuses to make compensations for it; instead, she forces others to work around it, like forcing them to talk to her through her interpreter (even though she knows how to read lips, a fact that she doesn't tell anyone "so she can see what they really think".) Her mannerisms are very refined and sophisticated, and disdainful of extreme informality and vulgar humor.
Because of her upbringing and home life, Rosa has a very harsh view on self-reliance, and will refuse to accept help from anyone, especially with personal or emotional issues, and would be uncomfortable with any help freely given- i.e., anything someone does for her that she didn't order them to do. That would be her personal weakness, which would be unknowingly exploited by the main character as he begins to get closer to her. She would also have a tendency to unknowingly make cute noises when she's stressed of uncomfortable, a fact that no one has yet to reveal to her because of fear of her wrath. Basically, she would be sort of tsundere, although not to a huge degree, and aristocratic.