Title: 1/8 scale Smokey Yunick Indy Car
Description: Scratch Built Car
Old Sprinter - April 7, 2016 08:39 PM (GMT)
I have started this very unique Indy car build. My neighbor was a friend of Smokey Yunick and asked me to build his car he took to Indy in the early 60s. Tons of research later I have it all drawn out and started building it. The frame is boxed tubing. I cut the shapes out, make two of them and glue a spacer in between the two. Then wrap it inside and out with .020 styrene. The Offy is, like everything, scratch built.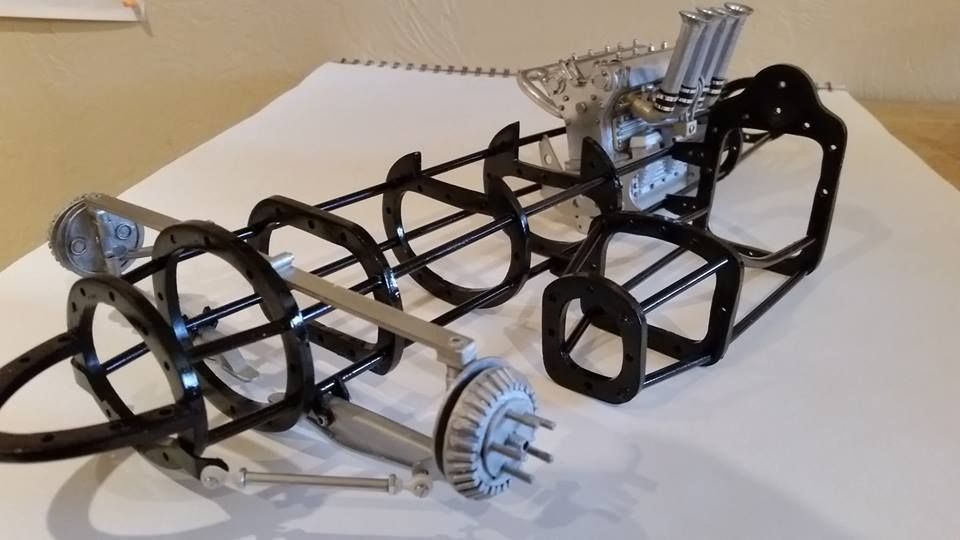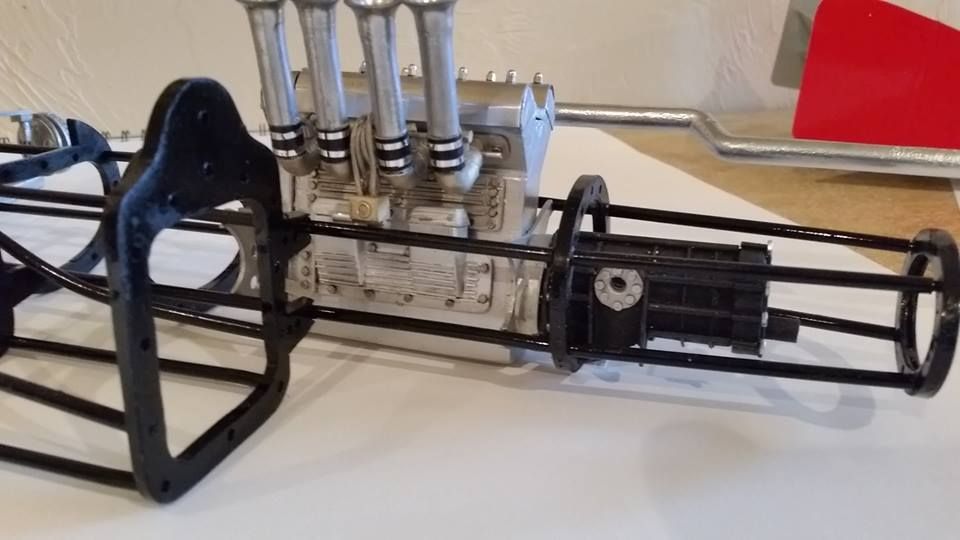 Lefturns75 - April 7, 2016 09:01 PM (GMT)
Old, this is just too cool and fantastic to be true!!!! I love this project and I simply sit and drool at your work. I never had the chance to meet old Smokey but boy would I have loved too!!! I would have gladly sat at his feet for hours just to hear him speak. A true master and genius. I will be watching this build. I would comment more but I just can't find words worthy to use. You sir, are a master in your own right.
Bob P. - April 7, 2016 11:32 PM (GMT)
Absolutely fantastic work on these 1/8th scale builds. This one is going to be outstanding. jsm jsm jsm

Bob
IAracefan - April 8, 2016 12:16 PM (GMT)
Amazing, can't wait to see more! rlr
Another Rick - April 8, 2016 02:00 PM (GMT)
rrr Going to be another beautiful build from the master. I'll bet that "sidecar" design had some of the Indy purist spinning in circles. Of course Smokey always had something up his sleeve besides his arm.
modelcarman - April 8, 2016 02:35 PM (GMT)
Old Sprinter - April 8, 2016 09:20 PM (GMT)
Thank you guys. I am one lucky model builder to get to build all these cool different cars for great people who pay me to do it. This started as a hobby [and still is] almost 6 years ago when I retired. Up until then I really had not built many models other than a few airplanes and a slot car or two when I was a kid so it is a thrill for me. This car is so unique and the research on it has been fun reading Smokey's books. He writes like he talked, very colorful and after 43 years in construction I talk that way too. He did throw the tech inspectors a curve at Indy with this racer. They fought it the whole way. The Tempest drum brakes up front were it's demise finally. They were not designed to smoothly slow down a car going 145mph into a corner and chattered and skipped which caused the car to spin and hit the fence. he used them because he was short on money. He used the disc brakes, from a Tempest, in the rear on the trans axle. That is a leaf spring in the front end witch also has small coil over shocks inboard. The fuel tank is a big old bladder like they used on fighters and helicopters in the war. Not encased in anything. He did come back to Indy a year or two more buy finally gave up and just stuck with stock car racing. Great mind, inventor and character.

Throback - April 12, 2016 12:27 AM (GMT)
:))) fbr jsm

What a great subject, I think your neighbor has the right man on the job! Stellar Work there OS.
Old Sprinter - April 21, 2016 03:42 PM (GMT)
sentsat71 - April 27, 2016 09:40 PM (GMT)
Great Subject!!!!

pecce fbr B)
signmike - April 21, 2017 12:49 PM (GMT)
nascarrocks - May 31, 2017 04:53 AM (GMT)
That car is on display at the National Corvette Museum. Saw it last yr when there in August. Very cool car for sure to see up close
sentsat71 - December 5, 2017 02:09 PM (GMT)