Title: More Vintage Photos
Lefturns75 - December 10, 2015 01:43 PM (GMT)
I was "infected" with racing bug at an early age. While other kids were playing "Cops and Robbers" or "Cowboys and Indians" I was pushing toy cars around in the dirt telling them I was going to be Fireball Roberts. They had no clue at all as to what I was talking about. I was lucky enough to have parents that took me to the races and got to travel around to different tracks and see some of the greatest racing of all time. As a kid, some of these racers I watched were bigger than Superman to me and walked taller than anyone. Most of them are gone now, but I remember them to this day and still hold on to their photos like they are gold. Following are some photos of cars and drivers that will forever stick in my memory.
The photo by my screen name. Legends Jack Belk (76) and Larry Phillips (75) doing battle at Ozark Speedway in Joplin sometime around 1964.
One team that was hard to beat was car builder Korky Felker and driver Fred Tullis. In the early 60's, they would race this modified at two tracks, Ozark in Joplin and 71 Speedway in Neosho Mo. At one track they used a 292 Chevy and would pull the engine each week and install a 426 Max Wedge for the races at the other. They won at both tracks.
Sometime in the late 60's car builder Felker designed and built this out of the box super and was driven by Fred Tullis. Long, Torsion bar suspension and fast.
Lefturns75 - December 10, 2015 02:11 PM (GMT)
Here are a few more shots of the Fred Tullis Super.
Here is a shot of the plywood mold Felker made up for the Fiberglass body.
If I remember my years right, Duane Beckham, Brother of Terry Beckham ran this 33 chevy coach in '66 thru '69. It used a 409 Chevy and won its share of races too. In 1970, a 62 Nova body was spread over this chassis and ran as a late model. During the transition from Mods to Late Models, rules were kinda lax and there were lots of cars used this way.
Another Rick - December 10, 2015 02:44 PM (GMT)
rrr Great stuff. When you going to build some of them?
Lefturns75 - December 10, 2015 03:40 PM (GMT)
LOL! Rick, I did build some of them back in my younger days. Now mind you I am sure they didn't look ANYTHING like the 1:1 cars but they did to me then. Not painted, gloo-smears and built with all the skills a 10 year old could muster. I think some would be rather difficult to re-produce in scale but others could be done. The only thing holding me up now is eye-sight, stiff hands, time and the nerve to jump in and do them. They are on my bucket-list just don't know when I will get to them all. It is a great accomplishment for me today just to get a kit out of the box, let alone build it.
carl - December 10, 2015 03:47 PM (GMT)
IAracefan - December 11, 2015 01:04 AM (GMT)
Great photos, thanks for posting them! :)))
Brian Conn - December 13, 2015 07:22 PM (GMT)
...I am going to ju mp into this as well...George (Lefturns75) has about 10 years on me age wise thus I don't have a whole lot from the 60's BUT I have ,at least, several hundred from the 70's...
CHRISTMAS GREETINGS FROM ROL LA SPEEDWAY ....70's style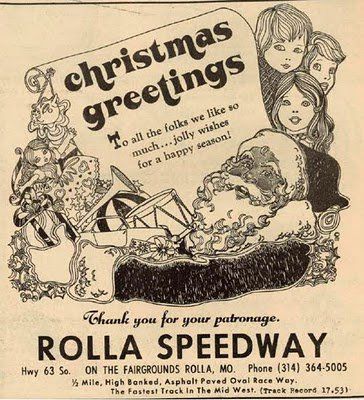 Lefturns75 - December 16, 2015 01:30 AM (GMT)
Brian, can you remember who held that track record (17.53) at rolla? I can't. I can remember Tom Reffner setting I-70 on fire with his Nash and then Tommy Maier dipping into the high 16's with one of those green Howe Camaros. I guess that number might stand to this day.
Brian Conn - December 17, 2015 12:29 AM (GMT)
Rolla in the 70's ,for me at least, was a town that we drove thru a couple of times to get somewhere else. For all I know that track record could have been set by Joe Racer from Smalltown, MO. in a 60's Chevelle....
Lefturns75 - December 17, 2015 02:20 AM (GMT)
Well, I asked Joe Fan from Nowhere Mo. and he produced a program showing the track record of 17.09 and being set by Dick Trickle. We still don't know who set the 17.53 in your ad but it fell anyway.
Lefturns75 - December 21, 2015 01:53 PM (GMT)
I had heard through rumors that the #76 race car pictured in my avatar still existed but all I heard about it was rumors. I was surprised to see in a post here by JPR-Inc on Oct. 2013 photos of the original car in unrestored form. Thats Great!!!!!!!! If some of you have not done so, check out his thread and view the pics. Thank you JPR-Inc for those photos and to the person that saved that wonderful piece of history.