Title: AMT '37 Chevy Modified - Completed 03-11
Description: New improved final pics 3-22
Bernard Kron - February 22, 2015 02:14 AM (GMT)
Here's photographic evidence that I've actually started first my dirt track modified build. I'm in on the deep end - this Hot Roddin', Drag Racin' rookie has an awful lot to learn. Follow along as I pester you all with endless questions!
I'm going to stick pretty close to the box build, which is unusual for me, but I'm learning as I go so using the instructions, which are pretty good in this kit, will help me understand what I need to learn. I've started on the motor and part 1 of the chassis build up and some questions have already popped up.
In order to continue with the sequence of build in the instructions it's time to think about pre-painting some parts, particularly the inside tin work. My memories of dirt track racers is pretty much limited to seeing cars towed to Pennsylvania and New York tracks when I was growing up in downstate New York in Dutchess Country which is just over the line from northern Connecticut. The biggest town is Poughkeepsie. Anyway, I never got a close look at them but I have a sense of the overall fit and finish and color schemes. Most of the cars I saw were what we called "jalopies" so the finish was pretty rough with opaque colored paint schemes and sign-painted lettering. But I never saw the interiors. I'm thinking of finishing the frame in a cream color and thought about finishing out the inside of the bodywork and interior tin in the same color. Does this make sense? I haven't settled on an exterior paint scheme other than it will be two-tone with the bodywork below the beltline in a lighter shade and the roof and rear deck a darker one, with decals to complement them. I don't build replicas as a rule so this will probably be a fictitious car.
Any advice about paint and colors will be most welcome, as well as any tips you may have about building this kit.
Thanx for lookin',
B.
Hondo - February 22, 2015 02:57 AM (GMT)
:))) :)))
Nice start so far, Bernard.
Whatever you want for color on the frame and interior will be just fine. Me personally. I like enough difference for the colors to highlight each other (if that makes sense).
On your Tobias chassis there, I like to cut off that last "D" looking piece and get the rear bumper bars closer to the body. Not jammed up to it, but just enough to look better.
There is one front loop bar near the radiator area...... I leave it off because the hood won't fit low enough for me.
Just my 2 cents and options.
You'll do fine on yours. Keep posting pics, my friend.
krwasson - February 22, 2015 12:56 PM (GMT)
carl - February 22, 2015 04:12 PM (GMT)
:))) Good start on your car will be watching your build rlr
Bernard Kron - February 22, 2015 09:11 PM (GMT)
Thanks guys. I like some of your suggestions, Jim. I'll check them out as I move forward on this project. Meanwhile I got some more work done, including stealing an idea from your 71 car, a definite influence on my '37 Chevy. I liked the way you radiused the opened-up door windows without removing material from the door by the A pillars. It looks real tidy and avoids weakening the body structure. The way I did mine was to determine where the stock corner radiuses begin along the bottom edge and use those points for the ends of my horizontal cut. I first cut vertically at those points with by trusty photo-etch saw, then scored my way through the reveal edge. After removing that piece, having marked out what I thought would be an attractive looking radius, I used a round sanding stick to shape the new corners. Here's some pics:
I've started work on the motor, having painted the engine block and transmission, and I'm painting smaller bits, wheels, etc. I'll probably tackle the main body painting and the interior tin next, but I haven't quite settled on the color scheme. The side rails need to echo the body color scheme which has a knock-on effect on the chassis color. This process would be a bit easier if I knew less about modeling but more about dirt modifieds!
Thanx for lookin',
B.
Bernard Kron - February 26, 2015 05:17 AM (GMT)
I'm making more progress. I'm enjoying this kit a lot. I enjoy the detail and the research I have to do to get a handle on building it right. I'm trying to stick closely with the build sequence in the instructions which seem to be pretty much on the money as far as avoiding any problems with construction.
The last few days have mainly been about painting and detailing. I'm trying to give it a utilitarian look which is the vibe I'm getting from the pictures of the original cars that the kit seeks to model. The chassis and all the interior surfaces except for the chassis tin work are painted Duplicolor Cream, a kind of medium light beige color. The cockit tin is finished n Testors Metalizer Aluminum Plate. The basic body color is Duplicolor Chrome Yellow. I'm thinking I'll add some red trim paint along the edges of the roof and rear deck and red numbers and lettering to match which I'll do with home made decals. The motor is standard Chevy Engine Orange.
All the chrome bits have been stripped and refinished in various shades of Testors Metalizer. The exception is the wheels. I'm using the kit wheels but they have been refinished in Testors Acryl Jet Exhaust, which is a pretty close match to the Dow 7 anti-corrosive finish used on Halibrand mags. The tires are from Big Donkey with a small "pony tire" for the inside front and a staggered oversize outside front. I've included a picture of the rear quick change because I thought it was an especially nice piece in the kit and it responded to paint detailing rather well.
Thanx for lookin',
B.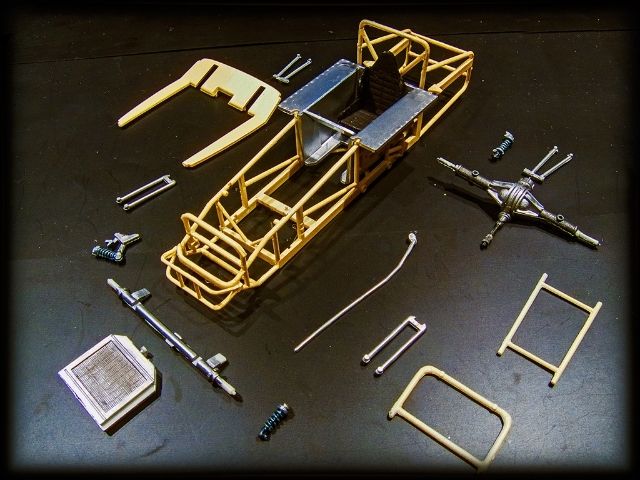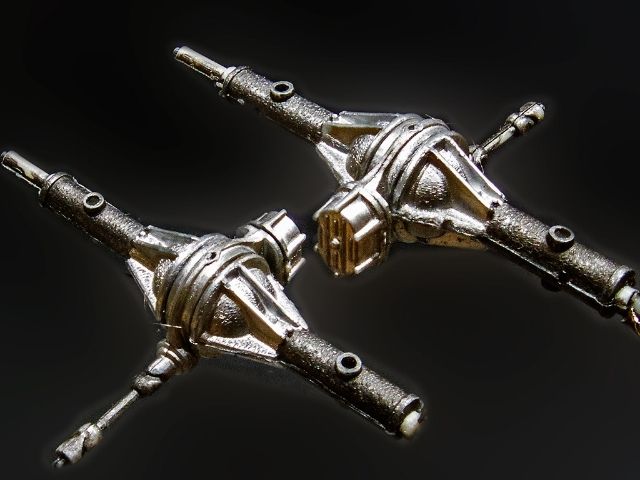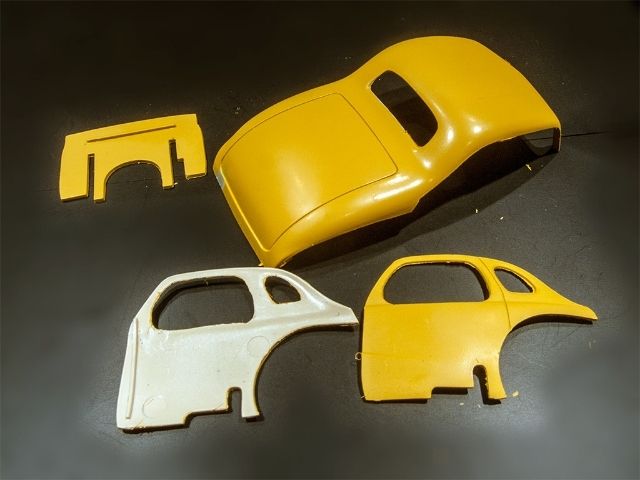 krwasson - February 26, 2015 12:16 PM (GMT)
Dutchman - February 26, 2015 01:58 PM (GMT)
Nice work so far! :))) rlr You have done your homework! rlr Denny
Hondo - February 26, 2015 06:15 PM (GMT)
Looking great so far, Bernard. fbr
Good choice on the wheel color, I do that as well.
I'm not too fond of the "build a bodies", but overall YES, they are fun kits.
I usually have to do some modifications to the cage also to make it fit a body "more snuggly" if you will.

You're doing a fine job and it's gonna look awesome !!
Dr Kerry - March 1, 2015 04:16 AM (GMT)
Great work so far Bernard, keep in mind if and when looking for ideas. Google is a good friend when looking for photos of stuff.... I have looked at a lot of stuff on there and gotten many ideas!!!
Bernard Kron - March 8, 2015 02:02 AM (GMT)
Thanks everyone for your very kind and helpful comments.
Iím quite far along on this project. Itís largely an out-of-the-boxbuild since I not very expert in this type of racing and Iíve never built a dirt track modified before. When I bought the kit it was used and quite a few of the parts were loose in the box, although it had never been started. I checked the parts carefully against the instructions and everything seemed to be present. Unfortunately there was a small hole in the bottom of the box that I didnít notice and a few of the small parts have gotten lost, notably part of the header assemblies and the hubs to the wheels. So Iíve had to do a bit more improvising than I thought I wouldÖ
The chassis is completed now with the exception of the rear nerf bar. The engine has been built. I was able to substitute a resin aftermarket header set for the lost kit exhausts with some cutting and fitting. Theyíre finished in Testors Metalizer Gunmetal. Most of the chassis details are finished in various shades of Metalizer as well. Iím going for a relatively utilitarian look to emphasize the abundant detail this kit offers. Everything fits very well and the instructions provide an excellent sequence of assembly. The only mysterious omission is a lack of steering gear and lever arm at the end of the tie rod. Iím sure Iíll build another one of these and in that case Iíll add in the missing detail. I also added a proper racing harness to the interior.
The other change I made is to substitute some very well detailed dirt track tires from Big Donkey Resin which look very nice with the refinished kit wheels on the fully assembled chassis.
The body color is Duplicolor Chrome Yellow with Duplicolor Flash Red trim on the roof and rear deck. I also cut back the rear deck.
Next up is making some homemade decals. This has become almost a trademark on my racing car builds. My habit is to wait until the car is fully painted and the stance properly dialed in before doing the design work on the graphics. In this case it meant that the car is almost complete. Below youíll see a sequence of mockup shots where I use Photoshop to create virtual graphics before actually printing and applying the decals. On the final build up Iíll probably add additional trade decals and some graphics on the engine cover as well.
Thereís probably another week of bench time before this car is done. Iím really enjoying exploring this area of automotive competition and Iím pleased to have been afforded such a nicely engineered kit to get started on building dirt track modifieds.
Thanx for lookiní,
B.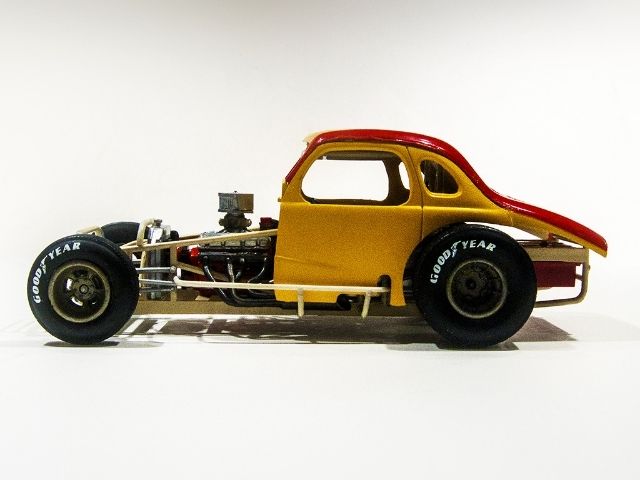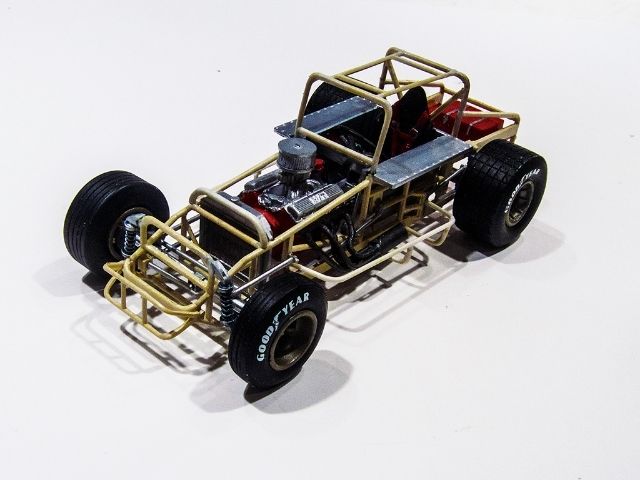 Bernard Kron - March 8, 2015 02:04 AM (GMT)
With all the nice chassis detail and a kit thatís designed to allow for a simple lift-off body shell I couldnít resist a little Photoshop Phun while mocking up my graphics.
I started with a rear view of the chassis with the body off and body on, using a tripod and being careful not to move the car when lifting the body off.
Then, using Photoshop I ďcutĒ out an image of the body and overlayed it on the bare chassis image. Because the camera alighmnet and lighting are identical for both images this allowed me to create a ďghostĒ image of the body over the chassis. I also took the opportunity to mock up the graphics at the same time.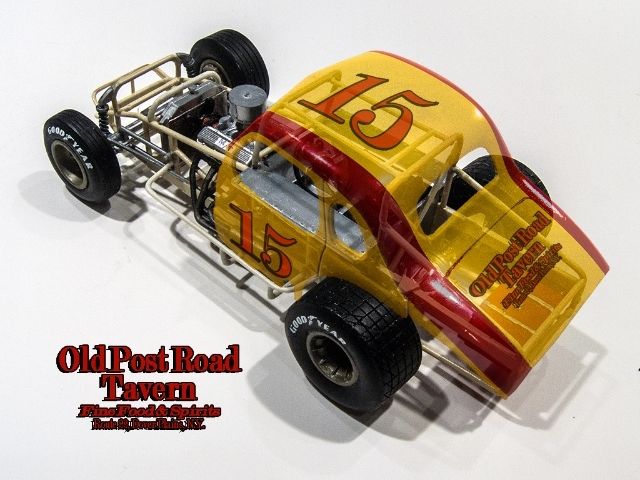 And finally, hereís the same image with the transparency of the body and decals removed:
krwasson - March 8, 2015 02:46 AM (GMT)
Dutchman - March 8, 2015 02:54 AM (GMT)
:))) Now that's impressive. You have captured the look of a 70s Eastern Modified. Well done sir!

Your work with computer graphics are the best too! Denny :)))
Hondo - March 8, 2015 03:13 AM (GMT)
So far so good, Bernard. :))) :)))
I learned a lot on the 1st couple I built.
You've done a fine job !! fbr
Dr Kerry - March 8, 2015 04:03 AM (GMT)
Can I get a whoop whoop????!!!! Awesome build Bernard..... :))) fbr
Lefturns75 - March 8, 2015 05:49 PM (GMT)
Now thats a pretty slick mud slinger for a guy that claims to not know much about em! Good move on hacking the rear of the body, looks more like the 1:1 cars I remember. Do you plan a second car? Love to see you do a 'Stang or Gremlin body mod. Good job on this Bernard, If I ever finish mine, I will share some pics. Matter of fact, if I ever finish ANYTHING I will share pics. wnw
Bernard Kron - March 8, 2015 06:37 PM (GMT)
Thanks for the compliments guys! This build is not without it's flaws. I couldn't figure out how the "Jacob's Ladder" was supposed to fit, so I just cut it off! I managed to lose the hubs so I'll have to fabricate some that look halfway decent. Losing part of the exhausts created a whole lot of whoop-ass and I'm still not sure I've gotten the body to sit the way I like it because of interference with the them. As you say, Jim, these first builds are real teachers! And I have to say, one could do worse than to study your #71 '37 Chevy Tobias car as a reference on how to do these things right. One sweet build!

If I have "first principals" in modeling it's capturing the "look & feel" of a type of car and a style. I usually focus on stance, first and foremost, then colors, wheels and tires, and the underlying construction and build approaches, which speak volumes about cultural issues like budgets, who was involved, and what it became. In this case I realized that most of these pre-war bodied cars of the 70's were sort of post-jalopy machines with very sophisticated chassis (obviously the Tobias chassis is key in understanding this) hidden under a tradition of rough and ready bodywork and cheap paint. In a sense the sign painter ruled the roost a far as the exterior of the car was involved. With the advent of what I assume was the exhaustion of supply of the old jalopy bodies builders began cutting up light compact car bodies and the look began to change. Many of these more evolved cars sit very low and that seems to have created a new-look racer which also interests me.

Lefturn75, I'm thinking for my next build I'd like to do a "prettier" car, maybe an asphalt machine, along the lines of the bodies you suggest, and using a Chevy rail style chassis. I was thinking maybe a Monza body with a fancier paint job, and a lower, more aggressive stance.

On the dirt track side I was thinking about doing another Tobias car, but this time with a more modern, but funky, body, maybe a Valiant with a full belly pan and an injected big block motor.

At some point, of course, the Gremlin must be the prototypic body that seems to have been the basis for today's flat-sided devices. With a bit more history under my belt I'll do one of those, too, although generally speaking I'm not a replica builder.

Of course, I've got some hot rods, customs and drag racers to build, too, so it could be a while until I start my next circle track car. I totally understand already, however, how these things can get addictive...

Still learning about all this and regretting having missed this type of racing along the way. But sure having fun!
Bernard Kron - March 11, 2015 08:29 PM (GMT)
All done! What a great basic kit. I can see how these things are addictive. But Iím glad I stuck to the basic model for my first time out. The sequence of assembly is critical in learning the ropes properly. Thanx for all the suggestions, web links and inspiration builds. Nothing special to report in completing my first modified except that I managed to lose several small parts that I had to replace. I landed up making the hubs from styrene tube and rod, fabricating the oil filler at the front of the motor, and, as mentioned earlier, substituting some aftermarket resin headers. I also decided to omit the trade decals, mostly because there wasnít much room to place them in an eye-pleasing manner, but also because I noticed that trade stickers arenít that common on these low-buck regional racers.
I hope you guys dig it. It was a blast to build!
Bernard Kron - March 11, 2015 08:29 PM (GMT)
Dr Kerry - March 11, 2015 09:03 PM (GMT)
Looks awesome Bernard!!!!! Totally diggin' it!!!!!
John Gorday - March 11, 2015 09:33 PM (GMT)
jpmracing - March 11, 2015 10:57 PM (GMT)
Great job Bernard! awesome build! jsm jsm
krwasson - March 12, 2015 12:57 AM (GMT)
Hondo - March 12, 2015 02:23 AM (GMT)
:))) :))) fbr fbr
It turned out really nice, Bernard.
Great details too. Yes. those kits are fun and addictive !!

Bernard Kron - March 14, 2015 05:00 AM (GMT)
Thank you everyone. I learned a lot about these types of cars and about this particular kit. I've got some non-circle track projects on the bench for now but I'm already thinking about a tri-5 framed pavement car, perhaps using an aftermarket body and motor. I love the low stance of the Troyer style cars. I'm busy digging through the back pages of the forum for ideas and inspiration. Thanks again to you all for your interest and advice.

B.
Dr Kerry - March 14, 2015 02:09 PM (GMT)
Kool Bernard, hope the short track bug catches ya!!!!!!
signmike - March 15, 2015 03:52 PM (GMT)
This is a very well done race car. This basis are respected, now comes time to modify and add details. For me it was pretty addictive and I hope you become addict to these small oval racers...Nice job, sir.

Bernard Kron - March 22, 2015 04:33 AM (GMT)
Thank you again guys. When I took the original final photos, the ones with the dark background, the camera I'm accustomed to using had just died and I used an old 5 megapixel backup camera to take them. I just got a replacement for my preferred camera which is a 9 megapixel Fujifilm E900. What's important about it is that it shoots in RAW format, which is high resolution and doesn't manipulate or compress the color data. It allows me to more accurately process the photos using Photoshop and gives a clearer, more precise result. Here are some pictures I just took with a white background:
Bernard Kron - March 22, 2015 04:33 AM (GMT)
Duffy - March 22, 2015 01:19 PM (GMT)
"...Ohhh muh Gawd! Ma! - MAA! Them spotlights burned the BODY
right off Bernard's CAR!!!..."
krwasson - March 22, 2015 01:20 PM (GMT)
Bernard Kron - July 19, 2017 09:04 PM (GMT)
Broken Photobucket links repaired. For now I'm only updating completed model pics. Updating w.i.p. links is just too huge a task! I'll update them on request...
dirttrackdave - July 22, 2017 01:39 AM (GMT)
Wow,great build.sure you don't know dirt mods!!lol. needs dirt! I'll take it
for some hot laps. Always hated term jalopies(but they were) Did you ever get
to Orange Co.Fair grounds.Fonda or Albany-Saratoga speedways?
Toby built it in'73 or '75 killed the home built,start the buy it built
era,the frame is still base for todays frame. Fyi-Asphalt cars are wider and
lower 6-12" ground clearance!if doing 70's era,coupes,vegas,pintos and others
used.newer frames have a step up front and rear end frame,NASCAR rule after
the death of Richie Evans.Larry at Big Donkey,has a body and wide tires.
will answer questions.Engines were 355ci to 358s. Around here in central
New York .Most tracks now dirt,only about 4 left.
Again nice build and hope my rambling helps future project.you help get
me back to my blacktopper


Forgive spelling.eyes giving fits mm1
sentsat71 - December 5, 2017 02:06 PM (GMT)
jsm
:))) :)))
fbr fbr fbr
wnw