Title: Cat Pics
Description: antics of felines
kyllroy - April 20, 2009 07:17 AM (GMT)
Our two asian lepoard housecats. The look like normal cats but have some distinct physical differences.
The first thing we noticed was the ridge of fur that stands up on their spine when they get scared.
The other is their extra long tails.
Stripes and spots are nearly identical if you don't know them from looking at them daily.
All action All the time and loyal hunters. They would like to land a fish out of the pond, but have accepted the wonder of just staring into it like me...:P
Broxandval - April 20, 2009 08:15 AM (GMT)
Hi Kyllroy
Cats are our second most favourite creature in the who world you guys look cute with a capitol C. :)
You'll find that many others like Robyn, tlc, KoiKrazy are cat keepers like ourselves. :)
Some own pedigree cats, others like ourselves like ourselves have always had a soft spot for the humble moggy Laughy Laughy.
But there is something about cats ian't there ? wether its their little personalities or their aloofness we don't know which that attracts a person too them. :unsure:
In our lives we have been touched by the lives of six other cats now sadly departed they were Spooky died RTA age 5, SpookyII died RTA aged 3, Sammy died old age/stroke aged 18, Baby disapeared found deceased one month later aged 15 and her big sister Dusty died old age/ kindney failure aged 18. :(
We currantly have Dillon a rescue cat aged 11, 12 in May and suki a recue cat aged 3 . :) :)
We wouldnt have change our time with them for the world :)
rgds
broxandval

Fishiedude Uglycat
Painteds4life - April 20, 2009 01:05 PM (GMT)
Aww i love the first pic! So cute
Jayesh - April 20, 2009 03:33 PM (GMT)
Your cats are great! I've never kept cats...I prefer non-mammals, but I do keep guinea pigs.
Robyn - April 20, 2009 06:53 PM (GMT)
They're darling! They don't look like full blood leopard cats (which are a wild species). I'm assuming they were bred with domestic cats to give a mixed species which means that they are really Bengal cats?
http://en.wikipedia.org/wiki/Leopard_Cat
kyllroy - April 20, 2009 08:26 PM (GMT)
Yes, Robyn the friend of my son who gave them,,,, yes they were free! Said they were bred down from the species and called them Bengal.
They still retain some of that in them though. Since we had them neutered to save them from wandering and death, we can't see the wildness. Their brother was taken by a neighbor and had not gone through the process. He says the cat dominates everyone including the dogs but remains the class clown and top pet of their home. BTW this friend also has a 7000 gallon koipond I haven't seen.
If I can sneak pics of it I will, and his little cat too!
By the way, I built the archway the cat is climbing on and my pond bridge. I am curently in the beginning stages of some plans for more bridge designs. Anyone seriously interested should contact me.
Rosiemeadow - April 20, 2009 08:51 PM (GMT)
kyllroy - April 21, 2009 12:15 AM (GMT)
Very nice pictures. I love that opossum one... they're defending the castle!
Pool Guy - April 21, 2009 01:22 AM (GMT)
My neighbor's cat likes to drink from the barrels of water in our yard.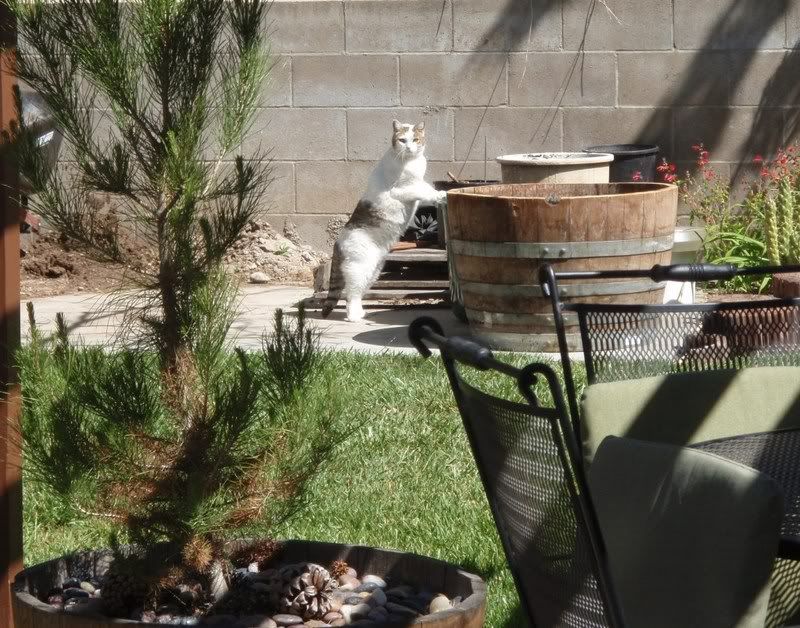 PG
kyllroy - April 23, 2009 08:38 PM (GMT)
We have a container pond as well with some fantails. It doesn't freeze here in So Calif so they do well and make our cats happy.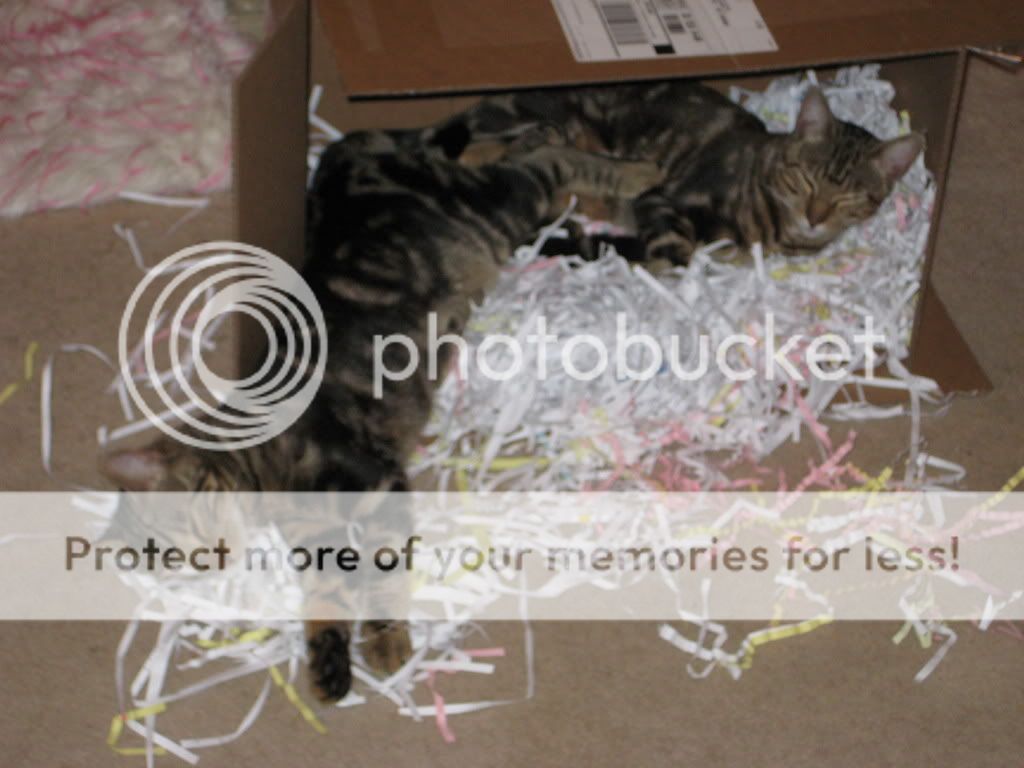 Rosiemeadow - April 24, 2009 11:49 PM (GMT)
there's a familar sight to me, napping cats, sometimes we feel like they are rugs, always under our feet :lol:
Broxandval - April 25, 2009 10:32 PM (GMT)
Hi Rosiemeadow
We looked at Mikey and thought wow that coulld be our Dillon's twin brother lol.
Dillon is a large cat at one stone four pounds but he's lovable, sadly he's non to bright when it comes to grey matter which allows Suki to run rings around him steaking his food etc . :lol: :lol: :lol:
Love the rest of your tribe by the way :)
rgrds
broxandval Fishiedude Flowersmile
Rosiemeadow - April 26, 2009 02:56 AM (GMT)
Hi Brox,
Thanks for the nice words, I love my tribe also. Mikey is my oldest 17, he is the meanest sucker out there, has been mangled up more times than I can say. Last time he was hit by some vehicle, don't know what, he managed to wander into a neighbors yard (our neighbors are not a close distance to us), & lay dieing, until her cat convinced her to go look at him (thank God, cause he would be dead now) he wasn't responding, & they thought he was dead, until he heard my voice, he picked his little head up ever so slightly, and just looked sorrowful at me, well, off to the vet, they said they didn't think he'd make it. Fast forward 8 weeks in a crate hand feeding, & poopy mess cleaning, intravenous fluids under the skin, more medicine,(yes, I played nurse, it was a lot of work) and lots of moola to the vet! Well, look at the little shit! All I can say is he's one tough cat! That was 4 years ago. :P Uglycat
My2cents - April 26, 2009 04:59 PM (GMT)
This is Priscilla aka Prissy aka Sissy aka Silly. She walks on a leash better than most dogs but still acts like a cat. Main difference about walking a cat vs walking a dog. A dog will go where YOU want to go. Walking a cat, you go where the CAT wants to go.
Rosiemeadow - May 14, 2009 12:24 AM (GMT)
awww, little Miss Prissy, Sissy, Silly is a real cutie pie, I would love to get Mikey on a leash so he can go outdoors again but he'd bite my hand off! ouch! :o ....(I had a cat named Sissy, she was Punkin's sister)
Broxandval - May 14, 2009 08:19 AM (GMT)
H My2cents
Dont have to bother with a leash Dillon follows me then walks back at my side when I come back meowing all the way :wub: :wub:
rgrds
broxandval Fishiedude