Title: herp derp nuzlocke
Description: +touhoumon
Smash Brothers Sage SoloSSD - April 3, 2010 11:44 PM (GMT)
Why touhoumon? because I don't really want to restart my actual games, nor do I know where they are. And because I haven't beaten touhoumon yet.

Using the Myon Edit

Log:
-Pick Flandre
-name it Vermillion
-Rival battle go:

Remi's intimidate kicks in
Vermillion used Astonish, NVE
Remilia used Gust
CRIT
Astonish :/
Gust
Vermillion fainted
FUCK
Smash Brothers Sage SoloSSD - April 4, 2010 12:09 AM (GMT)
Second try

Flan is Vermillion again. Adamant nature.
Let's use Ember this time.
Holy fuck, Remi isn't also a fire type. Nifty. I burned that bitch
Remi uses gust. 1/3rd of my health goes away.
I use ember again. Takes her down to the wire. Burn kicks in and finished her. Easy battle when things go my way.

Did the stupid errand to get my TOHO ORBS.

Pallet town:
Found Reimu in grass.
Got her to red HP.
Threw 5 balls. All failed.
Died because of the paralysis.
Restart #2.

Smash Brothers Sage SoloSSD - April 4, 2010 12:25 AM (GMT)
Try #3:

Flan. Again. Named her Inferna.
Vs Remilia. Let's go.
Gust.
Ember.
Gust. Crit. Dead.
esgnjkrhvdjbgrjechuybgtbefrygvtawrhdtuer
SOMEONE NEEDS TO EAT A DICK.
Smash Brothers Sage SoloSSD - April 4, 2010 12:31 AM (GMT)
Try #4:

Flan again. If Vermillion got two tries, inferna will get two tries as well.
Beat Remi with Ember twice. No crithax by her. First obstacle overcome.
Completed errand, got balls.
First patch of grass in pallet. Let's go.
Encountered a level 2 Sanae. Holy shit. Just barely managed to not kill it with leech life. Caught it.
Willow, the first one I caught. Let's hope the nuzlocke history doesn't bring anything bad down on her.


Route 1:
Found a Chen. Crit her on the first attack. She died. No touhoes from this route.

Viridian City:
Bought Great orbs. Don't want the few pokemon I can catch to get away, do I?
My purchase pays off as I find a MOMIJI in the grass in town. These things have roar. I throw a great orb off the start and catch it.
White Len has joined the party.

Route 2:
Found Lunachild. Caught easily.
Bright Hope has joined the party.
Smash Brothers Sage SoloSSD - April 4, 2010 01:16 AM (GMT)
I go to the rival battle on route 22
Bright Hope makes Aya her bitch with thundershock.
Remi comes up. Dark/Flying? Weak to thunder. It has gust as an attack. I'll resist that shit and win. No problem.
Remilia used bite. Bright Hope fainted.
Inferna goes out to finish the job. Much sadface.

I find an Inusakuya on Route 22.
Pound is NVE. That'll take forever, it's steel type. I'll use water gun.
Super. Fucking. Effective. Why is this pokemon a ground type?
It's dead anyway. Fuck it.

On to Viridian forest. Let's go.
Found a CYamame. I'll send out Willow.
Willow used pound. About 1/3rd damage.
Yamame used growl.
Willow used pound. Yamame in the yellow now.
Yamame used growl.
I'm going to stall out another growl. Willow used safeguard.
Yamame used growl.
Okay. Now to put you in red. Willow used pound.
Critical. fucking. Hit. Yamame fainted.

On the fourth attempt at this, I have two touhou. I've lost 2 touhou so far. I've blown 3 chances to get new touhou.
Willow and Inferna will have to weather through the forest for us to gain new allies on the other side. This will be harder than I thought.
Smash Brothers Sage SoloSSD - April 4, 2010 02:11 AM (GMT)
On the other side of the forest, I encounter more of route 2. No touhou catching here, folks.
Moving into pewter, I find one of those cool patches of grass the hackers throw into towns. Awesome. Hopefully I won't fuck this up like the last two capture chances.
It's a nitori. I capture that bitch.
Nitori is a mechanic. For some reason, whenever i think of mechanics, I think of them working on fighter planes. So I'm calling her Ace.

Brock is up next.
- I have Inferna, Dark/Fire. Not going to be much help. It got bite, which can flinch and is neutral to rock. Still, she's fragile and can't be taking hits. She won't be of much help.
- Willow is still with us. She's Grass/Water. Both good on rock. No resistance, but I don't really care. She'll probably be doing most of the work. If she gets low on health, I can always switch to...
- Ace, pure water. She actually has a fair amount of physical defense, which will help. I'm still dreading seismic toss, which I'm fairly sure brock runs on several of his touhoes.

Those 3 against the Gym leader. With some leveling and evolving, I think I'll be able to take this.
Smash Brothers Sage SoloSSD - April 4, 2010 03:25 AM (GMT)
Willow reached level 23 and got magical leaf.
Inferna is at level 20, as is Ace.
Time to fight Brock.
Smash Brothers Sage SoloSSD - April 4, 2010 03:57 AM (GMT)
First up is Suika. Magical leaf up in this bitch.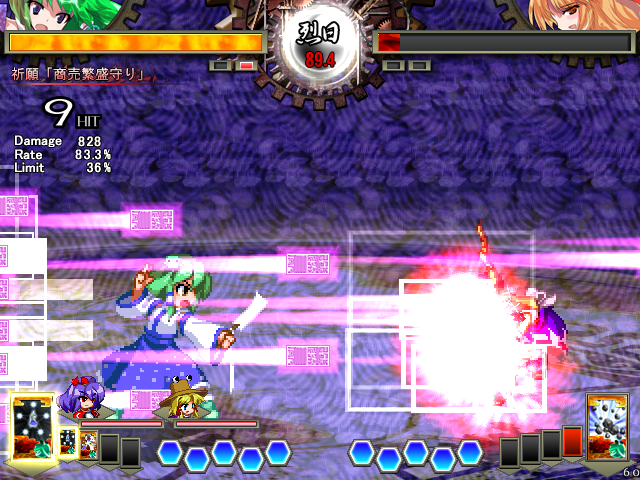 Fuck yeah.
Yuugi falls in a similar manner. Next up is Tenshi. The star of this show. Who's our lead? Still Willow, still untouched.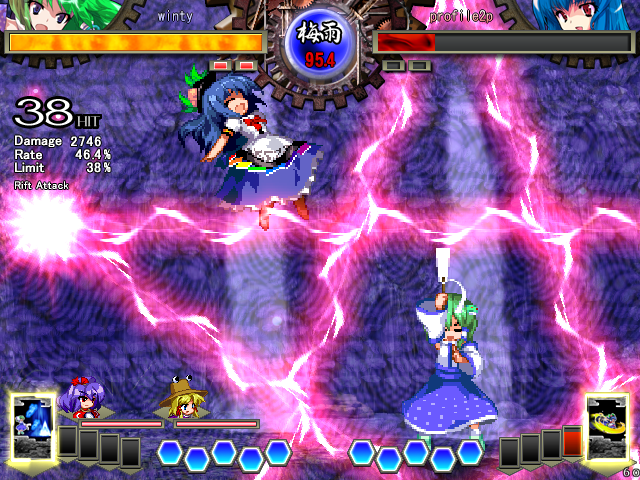 Another bitch goes down.
Letty steps up and goes down.
Willow solo up in this bitch. I got an evolution out of it as well. (no picture)
Smash Brothers Sage SoloSSD - April 4, 2010 11:12 PM (GMT)
Perish the Medicine joined the party. A bit too late, I realized I should have named her "Shield" or something.
Purchased another Medicine from the guy at the base of mt moon. Named it Savior. Sounded better than Shield.
Entered mount moon. Wild Patchouli appeared. Wild Patchouli used teleport.
Status so far: 5/9
Living:
Inferna the Flandre
Willow the Sanae
Ace the Nitori
Perish the Medicine
Savior the Medicine

Dead:
White Len the Momiji
Bright Hope the Lunachild

Missed:
Chen(crit)
Yamame(crit)
Patchouli(teleport)

Smash Brothers Sage SoloSSD - April 5, 2010 12:09 AM (GMT)
After the disappointment of the lost librarian, Route 4 yielded a Keine, who I named Caved. Cerulean's grass patch offered me a Marisa, who I caught after stalling out for it to use growl three times. I named it Yosh, in honor our of friend yoshindo. On this high note, I'll stop for the day.
Smash Brothers Sage SoloSSD - April 5, 2010 07:16 AM (GMT)
Caver just died to crit on her first battle.
Yosh evolves after a bit of training. I guess this isn't so bad.
I got to take on Nugget Bridge, only to encounter my Rival.
Inferna takes out Aya, Momiji, and Patchouli.
When Remilia comes out, I swap in Ace to spark her.
Remilia uses bite and takes down 40% of ace's health.
Ace uses spark, takes away 70%.
Remilia uses bite and managed to KO Ace. Fuck.
Yosh goes in to finish the job.

Though we lose another comrade in this short time, the rest of us must look ahead. On the other side of that bridge is a new route and a new touhou to capture.
Smash Brothers Sage SoloSSD - April 5, 2010 08:12 AM (GMT)
On the other side of Nugget bridge, we find route 24. Here, I encountered a Reisen, who I easily caught. I named her Anastai because it seemed pretty.

Shortly thereafter, I unexpected discovered that route 25 is in the same area, giving me yet another touhou. I caught a Cirno, who I named Einstein.
Zelos Wilder - April 5, 2010 05:53 PM (GMT)
Smash Brothers Sage SoloSSD - April 6, 2010 06:23 AM (GMT)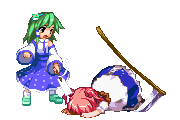 Misty down.
Smash Brothers Sage SoloSSD - April 6, 2010 02:48 PM (GMT)
Route 5: Trix the Tei. Goes into the box.
Route 6: Chin the Chen. I'm not too good at naming. Also goes in the box. :/
Vermillion City: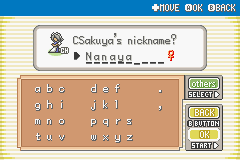 Route 11: I killed a Hina because I forgot what I was doing. God I'm stupid.
Digglet's cave: Ran into a level 35 Suika. Ran like a bitch.
Smash Brothers Sage SoloSSD - April 10, 2010 05:18 AM (GMT)
haven't played much these last few days. Current status:
http://www.youtube.com/watch?v=k8F3UE9qFsg
Smash Brothers Sage SoloSSD - April 11, 2010 05:33 AM (GMT)
Rival battle on the boat. Result?
Nanaya put that bitch on ice.
KAsevenfive - April 12, 2010 03:33 AM (GMT)
rdj522 - April 12, 2010 04:11 AM (GMT)
Smash Brothers Sage SoloSSD - April 13, 2010 02:04 AM (GMT)
With the SS Anne out to sea, the fourth gym stands in front of me. Nanaya's typing was lucky, but my team doesn't have anyone who can take advantage of Electric's single weakness: ground. Luckily, one of my more recent catches is perfect for the job, if a bit underleveled.
Kawaii~
Grinding time. But first, I should attend to the other underpowered members of my team. Namely Anastia, who is currently useless for anything other than sex appeal. Grinding won't really change anything as far as that is concerned, but I might as well do it anyway. Diglett's cave proves to be home to Suika and Yuugi, who she can make short work of.
lol i troll u
During this bit of spelunking, it comes to my attention that Inferna, my starter, has yet to evolve out of her Chibi state. If I'm grinding the hell out of everything anyway, I might as well fix that while I'm at it.
Level 30 and you still haven't evolved? what the fuck is this..
About damn time. Now, to get Chin up to fighting status. Let's head north of the city and see what we fi...
f
etw
wetaeryhre
ern\ywahqtheuhjdfsuaqreatewaq - CHEEEEEEEEEEEEEEEEEEEEEEN!
And here falls Chin, my one ground touhou - my trump card. She goes to join Ace, White Len, and Bright Hope in that one place called "Somewhere".
It won't be quite that easy to take down the lieutenant. Time for more grinding.
Smash Brothers Sage SoloSSD - April 16, 2010 06:36 AM (GMT)
Rather large update here. On the bright side, my photobucket seems to be working again.
Lieutenant Serge, the third gym leader. Lacking a ground type capable of absorbing his electric attacks, I am forced to make do with what I have. Taking my team of touhou, I approach the gym, cutting down a tree before barging inside, beating he trainers and disabling the gates to his fortress.
I approach the gym leader. he gives me a generic talk I don't even care enough to listen to, and we get down to business.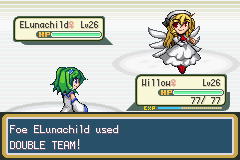 Or rather, he gets down to trolling me. Idiot.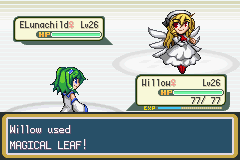 Willow activates counter troll and continues to trade hits for a bit.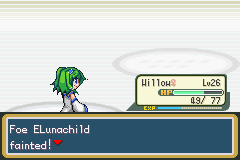 One down, three to go. Next up is Iku, who opens with more faggotry.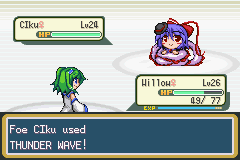 During his healing turn, however, Willow had set up some precautions. Faggotry barrier activate!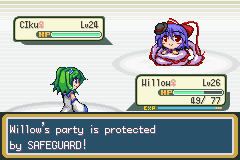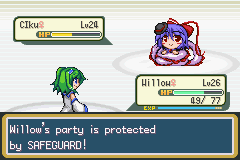 Are you stupid or something? Whatever, if you want to die that badly...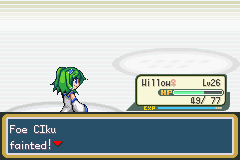 Willow can just take you out.
Next up is Iku.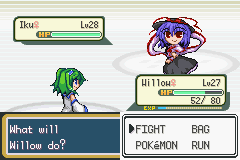 Willow still got a fair amount of health, she can take a few more rounds. Let's see how this goes.
Smash Brothers Sage SoloSSD - April 16, 2010 06:42 AM (GMT)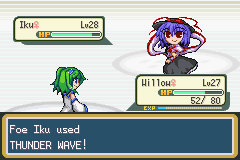 um what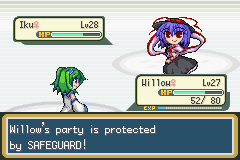 no really, what are you doing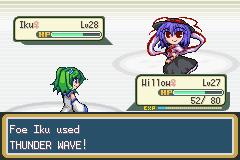 are you stupid or something?
Since the lieutenant seems to be fixed on being an idiot, I'll switch to a faster way of taking out this dragon type. Einstein should make short work of this idiot.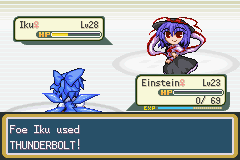 That's not thunderwave...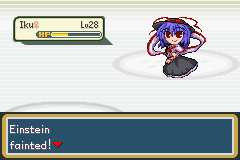 EINSTEIN!!!
Damn. Damn damn damn. Another overaggressive choice costs me another team member. The battle, however, is still going on. I can count my losses after the day is won. Let's get serious.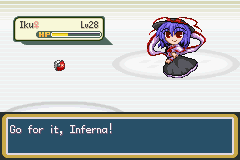 Inferna, let's finish these last two bitches and get the hell out of here.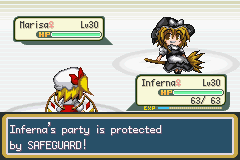 I mean, seriously, between being plain out stronger and having him waste his turns like this, I don't think we'll be losing any time soon.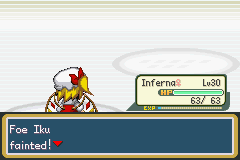 On to the last defender of the gym's status.
Smash Brothers Sage SoloSSD - April 16, 2010 06:57 AM (GMT)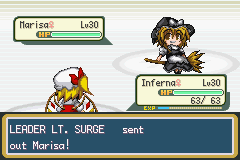 One on one baby. I got this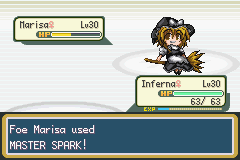 Oh.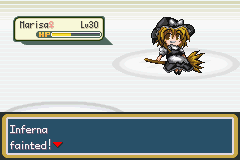 NOOOOOOOOOOOOOOO!
A surprise attack. My starter, my first companion, lost. Though she had only recently reached a new and more powerful form, by receiving that amount of concentrated love all at once, Inferna was vaporized on the spot. There will be no more battles for her, no more touhou to capture, no more newcomers to save, nothing. I felt empty. But then, I felt something different.
Anger.
All of us suffered from this loss. Everyone was hurt by it. And my number one rule is to defend me and mine, so I stood up and looked forward at my foe with a new resolve.
This battle was no longer about a gym badge.
This battle was about revenge.
With Willow wounded from before, the battle was left in the hands of Nanaya. She seems to be of the philosophy that revenge is a dish best served cold.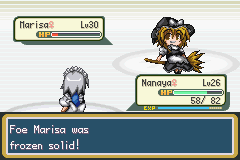 Lieutenant Serge didn't want to go down that easily. He tried to interfere in the battle.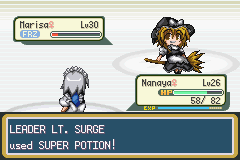 A futile gesture.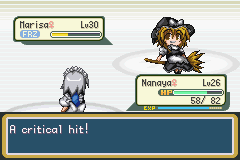 You will pay for what you have done here today.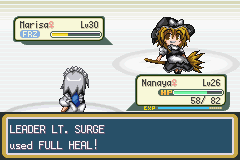 Your meddling will not stop me.
I
will
be
victorious!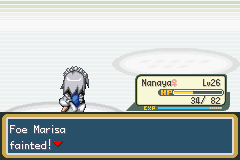 And so fell the last touhou of Lieutenant Serge, leader of the third gym. This victory seemed hollow, considering my losses. Whatever I gained here came at too high a price. Far too high a price - I wonder if any reward would be worth losing what I have lost this day. These thoughts run through my head as I leave the gym and it's leader behind.
Smash Brothers Sage SoloSSD - April 16, 2010 06:58 AM (GMT)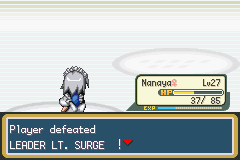 Kitsune - April 16, 2010 09:56 PM (GMT)
Smash Brothers Sage SoloSSD - April 17, 2010 12:09 AM (GMT)
Demiqian - April 17, 2010 06:59 PM (GMT)
Smash Brothers Sage SoloSSD - April 18, 2010 06:28 AM (GMT)
Moving forward, I went north, back to Cerulean, and then headed east. On this narrow path I encountered an Aya, which I caught, followed by a Reimu, which I also caught. Reimu, named Lilly, joined my party and I boosted her to fighting status.
Once this repetitive task was complete, I set off to move forward, towards my next goal.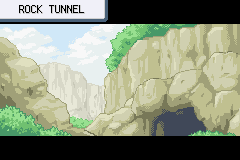 In this charming little cave, I encountered and accidentally KOed a Suika. It was sad.
Shortly afterward, I met a bizzarely dressed trainer, who challenged me to a battle. Anastia made short work of him. Upon losing, he said the darnedest thing...
Working my way further through the cave, I figured out why the rest of the people were here.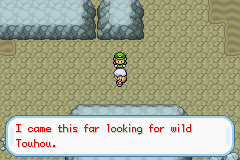 They are looking for touhou. As if the surface isn't teeming with the things, and much brighter and safer than this cave. Whatever. It wasn't much longer till out was out of this cave and away from it's crazy people.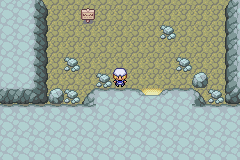 I stepped out of the darkness, back into the light, as if changing to a new person in the fresh air.
But now, to the newest town: Lavender, where we shall heal our team.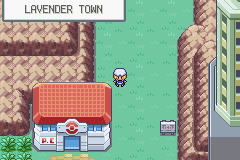 This was the state at the end of the rock tunnel. Not too bad, eh?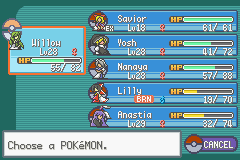 Smash Brothers Sage SoloSSD - April 18, 2010 06:40 AM (GMT)
Now that I'm back in the civilized world, it's time to do civilized things. Like make my team better.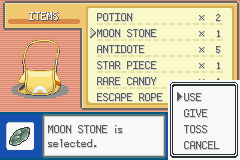 This is a moon stone. When the moon people realize that there are useless bitches, they are stoned to death with objects like these. Let's see if it works down on earth.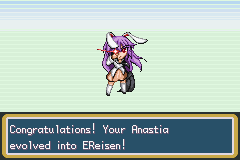 fuck, she's still here. Damn it. Anyway, off to Celadon to make more people better.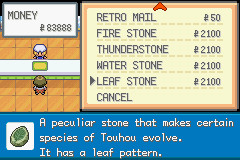 1 Leaf stone, please.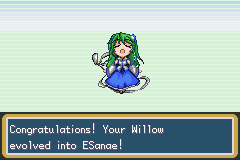 EX sanae fuck year. Now, let's go get fly, and grab a double battle along the way.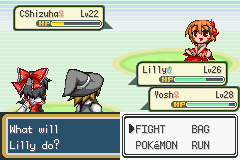 Better pose as a team, cuz this shit just got real.
With Fly in hand, and my team powered up some, it's time to grab some bitches. I've gained access to grass in Route 8, Route 9, Route 16, Lavender, Celadon, Saffron, and the pokemon tower. Time to catch some bitches. Let's start with route 8.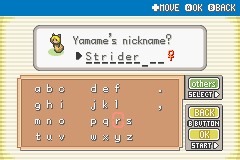 Strider because it's a spider, I guess. Nifty catch. On to Lavender, where I fi-OH MY GOD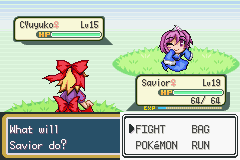 holy shit. Things are looking up for me.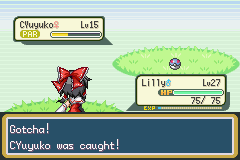 I got this. It seems that our perseverance through hard times brings good karma back on us, or something like that. Fuck yes.
Smash Brothers Sage SoloSSD - April 18, 2010 06:43 AM (GMT)
On to Saffron City's patch of grass. Let's see who pops up. Ain't much that could ruin my mood right now.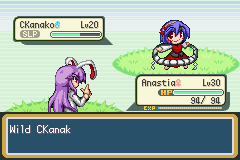 I'd make a joke about how god is smiling on me, but that would just be silly.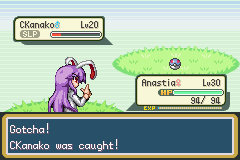 Onwards to more capturing!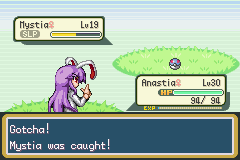 Route 7.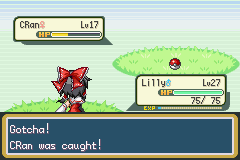 and celedon city.
Next time, we go for pokemon tower, where our rival - and Remilia - wait.
Smash Brothers Sage SoloSSD - April 22, 2010 08:02 AM (GMT)
I haven't put up an update in a few days, and you may be wondering why(assuming you care.)
There is a reason. I have been playing this, but I have made no progress story-wise until today. Because it was today that my side quest came to completion.
What was my quest? To become a rich ass motherfucker.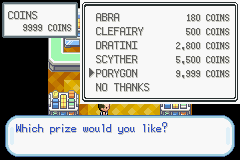 Now, what would be worth spending all those coins on? The answer is simple.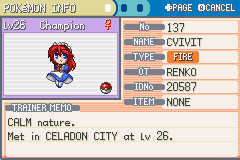 Pretty much amazing. Now, with our new team member in hand, we head to the gym in this town, where the gym leader awaits us.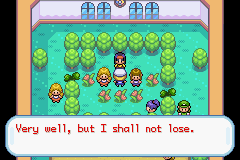 You're going to lose, bitch. I just hope you put up a fight.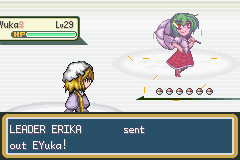 Erika kicks things off with Yuka, who is rather slow. Easy picking for Champion's flamethrower.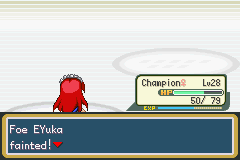 Took a hit there, but it's nothing too huge. Champion can't solo Erika at her current level.
Smash Brothers Sage SoloSSD - April 22, 2010 08:04 AM (GMT)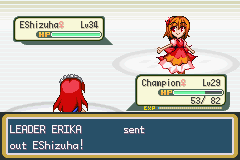 This shouldn't be too hard.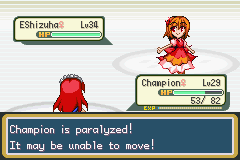 gshwreherhtre WHORE
Now this is starting to hurt. Champion can't last much longer against this type of power when she's paralyzed.
But thankfully, she doesn't need to. She can take a rest. Nanaya is here as well, with some new tricks, also thanks to me slaving away at the game corner for the past three days.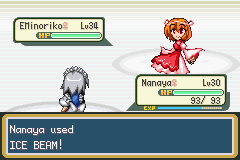 Ice beam mother fucker.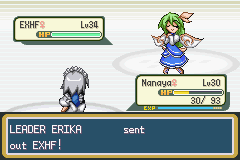 It all comes down to this. Nanaya will have to swap out to avoid taking too much damage on this healing bitch.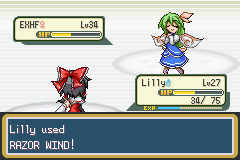 Razor wind ololol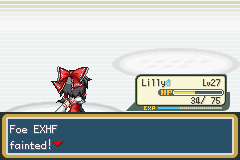 And with that, Erika falls.
Inferna, I hope you can see us now, standing tall and victorious, facing the horizon with confidence that we will win through, overcoming any obstacle that may stand in our way. It is in your name, and the names of the others, that we fight on. For victory!
Demiqian - April 22, 2010 09:26 PM (GMT)
Smash Brothers Sage SoloSSD - April 30, 2010 11:45 PM (GMT)
hugeass update here.
Having cleared the fourth gym, I set off towards the game corner, confident with the new addition to my team. However, in the basement of this shady establishment, tragedy struck once again.
Lilly's jump kick missed when she was low on health. I was unable to screencap this, but there was a lot of swearing involved. Another touhou lost to my thoughtless risk-taking. Damn it all.
I carried on, taking out geovanni handily and obtaining a sylph scope. With this in hand, I set out for the pokemon tower, where my rival waited.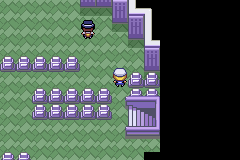 I walked forward to challenge her. There was no high jump kick this time. I had the battle planned out. The biggest threat - the touhou that had robbed me of Ace and Bright Hope - was Remilia, who was lacking any ability to compete against Nanaya, who could take her out easily. Yosh would strike down the opening Aya, and the rest were of no consequence.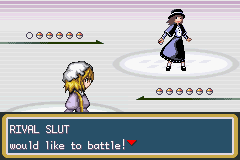 Let's do this, slut. Things go according to plan - Yosh kills Aya, Reisen challenges and somehow manages to beat Patchy despite being useless, and then...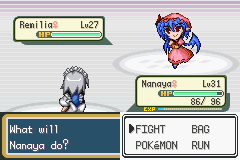 Let's do this, you son of a bitch. This is for Ace. This is for Bright Hope. This is for White Len.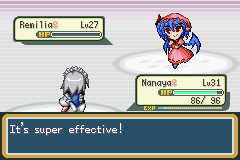 This is a mother fucking Ice Beam. Get out of my sight, you shitty vampire.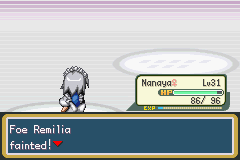 And down she goes. It won't bring the ones I have lost back, but if they are watching, they get to see her fall one more time. I intend to keep this up, in their memory.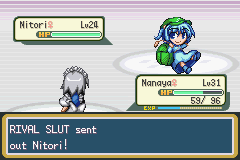 This, however, I will not stand for. You mock the memory of Ace with this copy. You mock the very meaning on my quest. I cannot allow you to do this.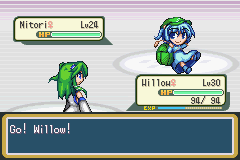 Willow, the first touhou I tamed from the wild. I leave it to you to put this mockery back in it's place. Magical leaf!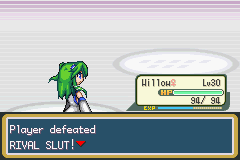 And that, as they say, is that. I take a moment to remember the pain this person has caused to me and mine. The next time we meet, the battle will be even easier than this was. However, I only take a moment. At the top of this tower, there is a spirit to put to rest.
Smash Brothers Sage SoloSSD - April 30, 2010 11:54 PM (GMT)
On the next floor of the tower, I fight my past several possesed people, adding to my small collection of touhou on the way.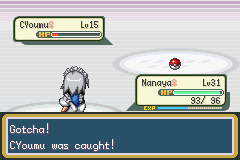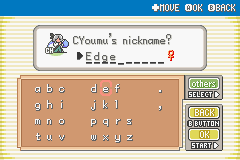 Edge. An ironic name, given how soft this steel-type touhou is. I won't be using her, as I already have too many fire weaknesses on my team. Regardless, it's always good to have more, in case I go through a major reform of my team.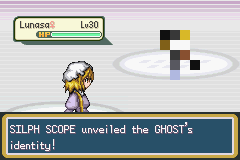 At the top of the tower, I encounter the ghost. My sylph scope quickly identifies it as none other than...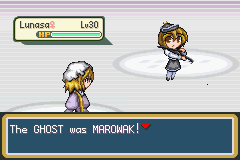 MAROWAK! What the fuck is a marowak? Regardless, I put the spirit, whatever it is, to rest, and continue to the final floor.
Time to run the gauntlet. They turn out to be pathetic rocket grunts, yielding little more than a meager amount of experience points. At the other end of this hall, I find the caretaker.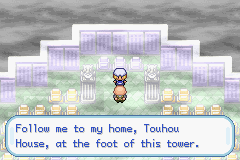 He takes me back to his house and gives me a touhou flute thing. Supposedly it wakes up sleeping things. I wonder...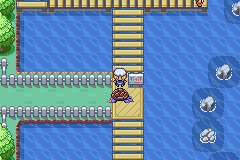 Perhaps it will remove this...thing from my path? Let's find out.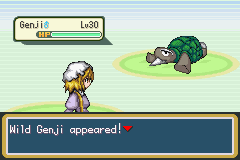 It appears to be a touhou. I know what that means.
Smash Brothers Sage SoloSSD - May 1, 2010 12:12 AM (GMT)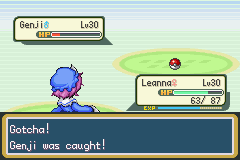 Gotcha! A flying type, too. I was wanting one of those.
As I continue down the lane, I encounter a large number of trainers. One of which has this fucking Tei spamming metronome. It manages to get a confusion move followed by a supereffective move. Large amount of damage + going second + confusion.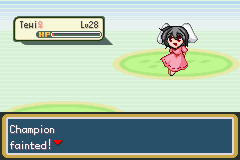 No. Your bullshit may have taken away my Champion, but just like the rest, her name, her efforts, her life will not go to waste, will not be forgotten.
I WILL beat this.
Everyone made a contribution, and I will NOT let that go to waste.
I will walk down Victory Road and throw open the doors of he Elite 4.
I will knock them to the floor one after another.
Then I will defeat the champion and take that title as my own.
That is my goal, and I WILL overcome all obstacles to reach it.
Many touhou have died to get me to where I am now.
This loss brings me sadness. Regret. Pain.
But it also brings me anger. And this anger is what drives me to continue. All opposition seeking to harm me and my allies will not be beaten, but devastated. They will feel the pain I have felt, and then they will be eliminated, never to bother me again.
I will throw myself against any wall I come across until it falls down in front of me. I will not stop. I will keep going no matter what.
Smash Brothers Sage SoloSSD - May 1, 2010 12:13 AM (GMT)
I will start with the large amount of Bird Trainers on this path. I will rip them apart one by one, and Nanaya will be my hand. Together, we shall do this. Not just in the name of Champion, of Lilly, of Inferna, of Chin, of Ace, of Bright Hope, of White Len, of Vermillion.
No. This is for not just for all of them.
It is also for Victory.
Let's count it off.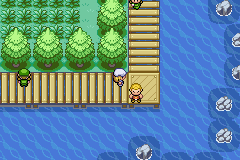 1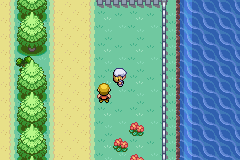 2
3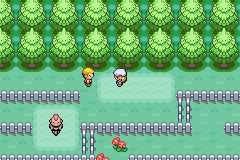 4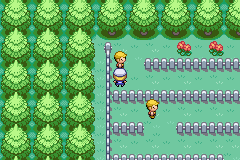 5 and 6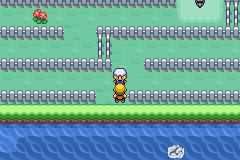 7
8 and 9
What does that equal?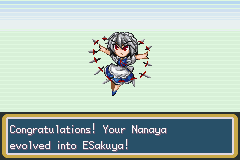 EX NANAYA, MOTHER FUCKER.
KAsevenfive - May 1, 2010 12:13 AM (GMT)
Smash Brothers Sage SoloSSD - May 1, 2010 12:17 AM (GMT)
Let's keep going. We have new routes, which means new touhou.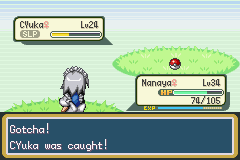 I called her Punisher. Like the one guy from the comic books. Fuck yeah.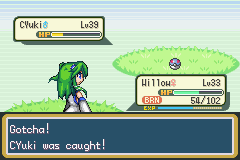 This.
For the third time, I encountered a fire type.
With the spirits of Inferna and Champion behind my hand, I throw the orb to capture her.
This time, I will do better.
I will not let you fall so easily.
I will not let random numbers and surprise attacks rob you of your life.
I will become stronger.
This I promise you...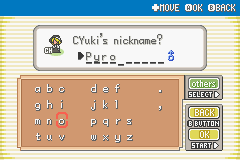 Pyro.
Gamefreak - May 1, 2010 12:31 AM (GMT)
Shoulda named her "Marisa"